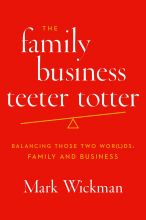 The following is an excerpt form Mark's new book: The Family Business Teeter Totter. Have you ever tried hiring a personal trainer? Whether or not you have, ask yourself ...
Continue reading >>
Photo by: Eje Lyam Pushing Pause Name one thing that happens at a slower pace than one hundred years ago…I'm hard pressed to make any kind of list of things. Maybe ...
Continue reading >>
Ladder or Stairs?? I'm somewhere in the latter half (I hope…) of my recovery from "The Fall" I wrote about in January's edition of this ...
Continue reading >>