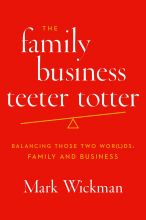 The following is an excerpt form Mark's new book: The Family Business Teeter Totter. Have you ever tried hiring a personal trainer? Whether or not you have, ask yourself ...
Continue reading >>
Cindi Mortimer-Kies BUMPS… Bumps in the road. Depending on the state you live in…More or less… Does the end justify the means? Are bumps necessary ...
Continue reading >>
Photo by: Damian Navas Fiduciary…What? Most of you have probably heard the word, Fiduciary…Maybe on multiple occasions. What does it mean? Google the word and here's ...
Continue reading >>