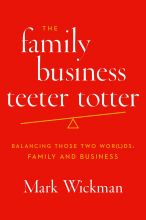 The following is an excerpt form Mark's new book: The Family Business Teeter Totter. Have you ever tried hiring a personal trainer? Whether or not you have, ask yourself ...
Continue reading >>
Photo by Ruth Lathlean Weaving the tapestry of your family business You've probably all seen pictures of the reverse side of a tapestry. Just a bunch of knots and loose ends of ...
Continue reading >>
Photo courtesy of creditscoregeek.com Failure's Four F's (or is it five??) Now I know this isn't necessarily anyone's favorite topic. It's not mine either. ...
Continue reading >>