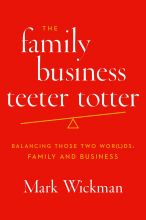 The following is an excerpt form Mark's new book: The Family Business Teeter Totter. Have you ever tried hiring a personal trainer? Whether or not you have, ask yourself ...
Continue reading >>
Photo by: Marcin Wichary And You? I was interviewed this week about the work I do. Near the end of our conversation, this person asked, If you had it to do over, what would you ...
Continue reading >>
Photo by: Delyth Angharad The Outward Mindset At the recommendation of a client and an attorney friend, I recently finished reading a book put out by the Arbinger Institute entitled, ...
Continue reading >>