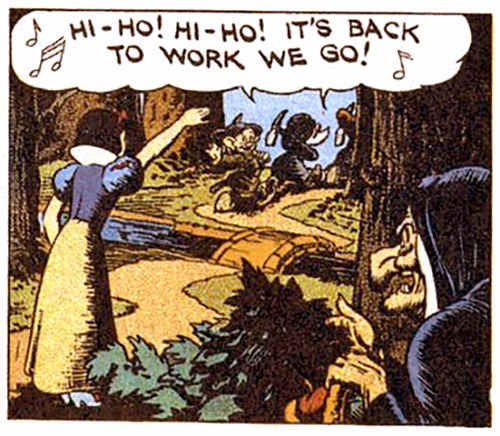 1938 Comic by Hank Porter
Just before the holidays I was meeting with a client. We had finished the main part of the meeting and were just chitchatting a bit. We got on the subject of work. I asked him if he still enjoyed his work. He said he did, but
"No job is perfect."
To him and his wife I replied, "Hold on a minute! Mine is pretty close!" I went on to explain how
I believe that everything
I've done in my life up until this point has prepared me
to do what I get to do now.
I am invited in on quite intimate conversations with individuals, couples, businesses and their teams. On a regular basis it takes all I have and more, but I wouldn't trade it for anything.
I realize how fortunate I am…
and I don't take that for granted.
A few days later, it was Thanksgiving morning and I was writing in my journal. My mind went back to the conversation earlier in the week and to the topic of work in general. I remember my dad, working faithfully for the same company year after year after year…in the end 30+ years…but I also remember thinking of the toll work took on my dad. He loved being outdoors. He was a forestry engineer. In his later working life his job morphed into much more of an office job. In the late '70s and early '80s (some of you can remember that far back…) the timber industry changed and from my limited vantage point, it looked to me like
the energy my dad
had maintained for his work
all those years began to slip away.
As I look back, it seems to me that those later years of my dad's work shaped my attitude about work more than his early working years…and that stuck with me…I believed in working hard, but the real "Why?" of work often seemed more like the bumper sticker. Maybe you've seen it.
I owe. I owe. It's off to work I go.
So as I sat there journaling on this Thanksgiving morning it hit me.
The transformation in
my definition of work
is kind of a BIG DEAL!
To think that what was once viewed as have to had become get to;
To think that what most view as mundane could become meaningful;
And to think that what didn't seem to matter matters in major ways…
I've got only one thing to say, "Wow!" I am grateful, and I am humbled at this miracle that work has morphed into for me. This is not to say that work has to be, should be or even can be this way for everyone. Millions on the planet spend five or six hours of their "work day" just fetching water. This work of mine is a luxury of sorts – a true gift. I'm reminded of what Rick McKinley said about work in a series of talks he gave on vocation. I'm paraphrasing here:
What if work isn't just about making enough money to pay the bills and save enough in my 401(k)
to one day retire and not have to work?
What if work has meaning beyond that?
What if the purpose of work
is that creation
(this world, this universe we live in)
might flourish?
I want my work to be like that – the flourishing of others – individuals, families, businesses, communities, and our world…
Here's wishing all of you a very Merry Christmas and a Happy New Year!